It's me...I know...it's been awhile...but honestly, it's just been all kinds of crazy and exhausting at the same time and I know I should use this blog to share and express my thoughts and ideas, but I have this horrible habit of keeping everything in and then one little word, thought, or experience can open my mouth and everything comes falling out...
But I won't do that to you...only my inner circle of trust gets to see that fiasco! :)
Oh...and don't think it's bad news or that something awful is happening on the home front...I'm totally fine...just a lot to think about lately...and possibly the winter blues.
So...here's a real quick catch-up:
Winter Blues...I'm really tired of the cold and snow and not that we've had a lot at all, but enough is enough. I need some milder temperatures where at least I can get outside for a little run in the early morning before school without thinking my lungs are turning into ice cubes. Plus, I think I glow in the dark...time for some sun!
Departmentalization...Our math teacher is on maternity leave right now and although we're missing her, her sub is top notch! We used to have 70 minute blocks, but now we've extended our blocks to 90 minutes for 3 days a week which being the reading/writing teacher, I totally appreciate! I was getting a bit overwhelmed. Note for next year...I want...no we need 90 minute blocks right from the start...if we get the okay to departmentalize next year.
Student-Led Conferences...I've been doing these for a few years now, but we decided to do them with our departmentalized classes this year too...so worth it! Our parents seemed really impressed and it was great to see everyone interacting. We even started brainstorming ideas for future events. We need our families to feel more involved in what's happening in our school...we do a good job with newsletters but I think we need to do a better job of informing our families how they can help their child be more successful. We have a few kiddos who are struggling a bit right now, but if they were just getting a little more reinforcement on the home front, they'd be more successful during the school day.
Last week my partner in crime and I went to Ohio's Educational Technology Conference in Columbus, known more commonly as E-Tech. I really like going to this conference because it pushes my thinking in a different way rather than just thinking about the academic part of first grade (and feeling like I'm not doing enough). I feel that my school district is very technologically advanced compared to the other districts in our area so this conference exposes me to new technologies that I can bring back to my classroom and share with my building. We sat in on some very cool sessions...one of my favorites was an Ohio Blogger...Mindy Newell!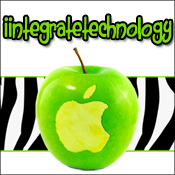 Oh my gosh...if you have iPods or iPads in your classroom, you MUST check her out! She's actually organizing her apps how they correlate to the Common Core Standards (and more...her blog is incredible)! And...(I know, never start a sentence with a conjunction) she holds her kiddos accountable for the activities they do on their iPads. This is a big deal to me, because to be honest, I have only used my iPads to reinforce skills (maybe)...but mostly the kids just play on them. So, needless to say, I brought home all of my iPads this weekend to set them up so that my kids can email me their work from their iPad! Sure, this means more e-mails to check, but AMEN! I'll be able to see what they're doing...and even forward the work to their parents if needed! I also sorted all of the apps our tech team has put on our iPads into folders based on the content of the app which was a job but I hope it will make things a little easier. I also saw all of the pictures and videos they were taking of each other in Photo Booth....ummm...expectations are needed in this area of our iPad usage. :)
This little catch-up post of mine is getting a little long...so hold on for one more thing...
I also sat in on a session for a FREE behavioral management tool called Class Dojo. I know I've heard about it somewhere...maybe on Pinterest...maybe on someone's blog...but it is going to rock my world! I'm so excited to start using it tomorrow!
If you haven't looked at it yet, give it a peek! It actually generates reports on the behavior data in your class and you can share it with parents. My explanation here doesn't do it justice, but I introduced it to my kiddos last week and we're going to start it tomorrow. It was easy to set up on all of my devices and will be accessible to my parents once I send home their invitation to join. I'll post more on it as I use it more...I just had to share it with you today!
Oh...and since I had some "free time" without papers to grade or lessons to create, I was finally able to set up my class Twitter account. It's been something I've wanted to do for a very long time and it's sole purpose is to tweet about what we're up to in our classroom. If you're interested in following you're more than welcome to find us!
Okay...so thanks for sticking around for my "short catch-up"!
Here's what's coming soon...if I don't get swamped and overwhelmed with everything else!
Take Care!